---
Back to Parish & Company Home Page
April 26, 2002 6:00 pm Pacific Time
SOURCE: Parish & Company.
Bill Parish Delivers Keynote Address at Kent State University
PORTLAND, Ore., April 26, 2002 Today Bill Parish of Parish & Company gave the keynote speech at a major national conference regarding recent developments in the investment markets and how they are being impacted by accounting issues. The specific title of the speech was "The Inside Story on Microsoft and Quality of Earnings Issues."
The speech outlined how the Microsoft Corporation has erected an illegal financial pyramid scheme predicated upon financial fraud. Peripheral impacts of the scheme include the demise of Enron, Arthur Andersen, MCI/Worldcom, Global Crossing and numerous other major corporations in addition to the pilfering of the public pension system (PERS). It is most unfortunate that major business media outlets, having detailed information on how this scheme works, are still refusing to discuss its source. Instead, they are focusing on excessive executive compensation and other factors that serve to only distract readers from knowing what is truly occurring. Please see the research archive for more details.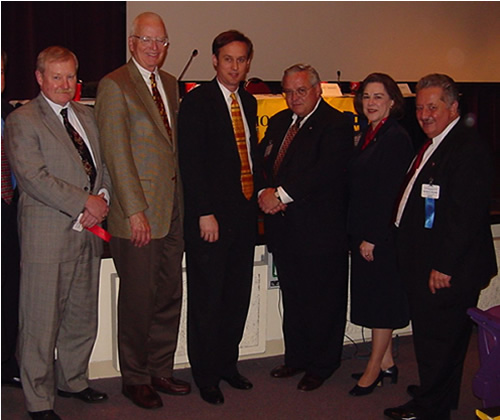 Pictured Left to Right:
Tim Lucus - Director of Research at the Financial Accounting Standards Board (FASB).
Dennis Bresford - University of Georgia Professor of Accounting and Previously Chairman of the Financial Accounting Standards Board (FASB) for 10 Years. Dennis is recognized as an icon of credibility in the accounting industry and widely quoted in all leading news outlets.
Bill Parish - Independent Investment Manager and Conference Keynote Speaker. The title of Bill's speech was "The Inside Story on Microsoft and Quality of Earnings Issues."
Robert Herdman - Chief Operating Officer at the Securities and Exchange Commission (SEC) and current SEC Chairman Harvey Pitt's Primary Policy Advisor. Herdman runs the SEC.
Margaret Butler - President of the Institute of Management Accountants (IMA).
Norm Meonske - Distinguished Professor of Accounting at Kent State University.


Parish & Company is an independent fee based investment advisor to individuals, pensions and trusts based in Portland, Oregon. No fees are accepted, either directly or indirectly, from any provider of investment products. Your comments are most appreciated and please do visit my research archive at www.billparish.com.




Bill Parish
Parish & Company
10260 SW Greenburg Rd., Suite 400
Portland, OR 97223
Tel: 503-643-6999 Fax: 503-221-3161
email: bill@billparish.com
Back to Parish & Company Home Page